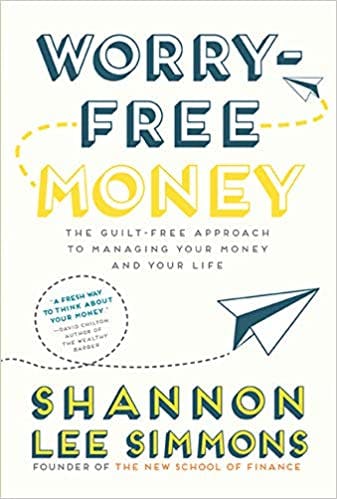 Worry-Free Money: The guilt-free approach to managing your money and your life

Buy now
"A fresh way to think about your money." David Chilton, author of The Wealthy Barber
Stop budgeting. Start living.
Managing your money can be frustrating and confusing. Life is expensive. Whether you make $30,000 or $130,000 a year, it can feel like you're constantly broke. Can you afford that new car, that vacation, that night out? You think so, but it feels impossible to know. And rigid budgets that force you to spend your money in unrealistic ways (like $9.50 per week for pants) don't make things any clearer.
But what if there was a new way to manage your money? One that left you certain you had your bases covered—both for your monthly bills and your future retirement—and then let you enjoy your money by spending it. (Yes, really.)
Enter Shannon Lee Simmons, a fresh voice in the world of personal finance, one who understands the new and very real pressures to survive modern life and keep up in the age of social media. Shannon doesn't lecture, judge or patronize. The founder of the wildly popular New School of Finance, Shannon recognized that most of her thousands of financial planning clients felt broke, no matter what their income. And feeling broke can be as bad as actually being broke, because it leads to overspending and misery. So she came up with a new plan: Worry-Free Money.
Worry-Free Money takes a fresh approach to finances, looking at the root cause of the pressure to spend and showing why traditional budgets don't work. It is a deeply practical book that will help you break the cycle of guilt, understand why you overspend, banish unhappy spending from your life, learn to recognize your f*ck it moments and find hope—and fun—in getting your money under control.
The Entire Virtual Bookshelf
A curated list of our most recommended books
Our Courses
INTEGRIS is an authorized educational partner of Knowledge Bureau
ppp105
Behavioural Finance in Risk Management
$895
Knowledge Bureau
This course reviews the measurement and calculation of risk and return from the perspective of clients who are now living longer lives. Largely due to advances in preventing heart disease, more awareness, and healthy lifestyles, Canadians who reach age 65 are more likely than ever to live into their 90s. As a result, retirement income planning is a much longer process in which a focus on continued accumulation and investing is as important as the tax-efficient withdrawal of funds. Capital must be preserved at the same time.
ppp106
Planning with Trusts
$895
Knowledge Bureau
This course provides a detailed primer in the subject area featuring common true to life scenarios because every financial advisor who discusses tax, financial or investment plans with clients should have a basic understanding of the taxation of trusts in order to discuss estate planning options with clients.
ppp201
The Smith Manoeuvre and the Personal Pension Plan
$895
Smith Consulting
This course will give you a solid understanding of The Smith Manoeuvre tax-deductible mortgage strategy and how it can help your clients not only generate personal wealth from their mortgage but can also significantly augment the growth of your client's Personal Pension Plan and corporation.