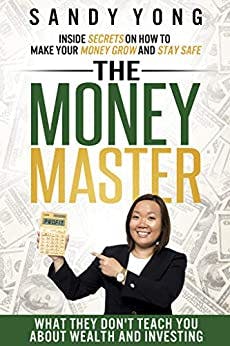 The Money Master: Inside Secrets on How to Make Your Money Grow and Stay Safe: What They Don't Teach You about Wealth and Investing

Buy now
Award-winning book that recently earned acclaim from the prestigious Next Generation Indie Book Awards!

In today's society where living costs are soaring and housing prices are skyrocketing, it's becoming challenging to keep up with living expenses, let alone save up for a nice vacation or even retirement. It's not uncommon to feel overwhelmed and intimidated with managing your money.

The Money Master teaches a step-by-step plan on how individuals can overcome their fears and failures and get back on track to achieve financial success. With these tools, you can take control of your financial future and live the life you deserve!

LEARN HOW TO...
Deal with feelings of intimidation, embarrassment, and being overwhelmed when managing your money. The Money Master will show you how you can improve your financial situation by using various strategies on investing. Whether you are interested in becoming a real estate guru, earn money in the stock market or start your own business, this book shows you a powerful system to achieve your financial goals.

UNCOVER IN THESE PAGES...
By reading The Money Master, you will learn strategies to start investing TODAY and earn MULTIPLE streams of income in a smart and safe way!

Train your brain to have a millionaire mindset.
Develop healthy and wealthy habits.
Balance today's needs with tomorrow's wants.
Take control of your financial future and get the lifestyle you deserve.
Find out what women have never been told about financial advice.
Learn the inside secrets to protecting your wealth.
Discover words of wisdom from financial experts.
Create your own financial portfolio and have money work for you.
Earn money in real estate.
Be your own boss by starting your own business.​​​
The Entire Virtual Bookshelf
A curated list of our most recommended books
Our Courses
INTEGRIS is an authorized educational partner of Knowledge Bureau
ppp105
Behavioural Finance in Risk Management
$895
Knowledge Bureau
This course reviews the measurement and calculation of risk and return from the perspective of clients who are now living longer lives. Largely due to advances in preventing heart disease, more awareness, and healthy lifestyles, Canadians who reach age 65 are more likely than ever to live into their 90s. As a result, retirement income planning is a much longer process in which a focus on continued accumulation and investing is as important as the tax-efficient withdrawal of funds. Capital must be preserved at the same time.
ppp106
Planning with Trusts
$895
Knowledge Bureau
This course provides a detailed primer in the subject area featuring common true to life scenarios because every financial advisor who discusses tax, financial or investment plans with clients should have a basic understanding of the taxation of trusts in order to discuss estate planning options with clients.
ppp201
The Smith Manoeuvre and the Personal Pension Plan
$895
Smith Consulting
This course will give you a solid understanding of The Smith Manoeuvre tax-deductible mortgage strategy and how it can help your clients not only generate personal wealth from their mortgage but can also significantly augment the growth of your client's Personal Pension Plan and corporation.