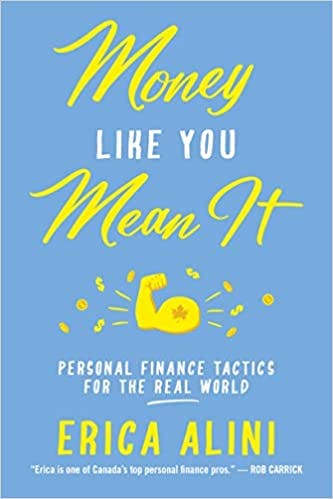 Money Like You Mean It: Personal Finance Tactics for the Real World

Buy now
"The first personal finance book for the 2020s: expensive housing, BNPL, side hustles, negotiating a raise, and much more. Erica Alini is one of Canada's top personal finance pros, and this book shows it." —ROB CARRICK

Wrestle debt to the ground. Figure out whether you should rent or buy. And determine if a side hustle is really worth the hassle.

Get a job, buy a house, spend less than you make, and retire at sixty-five. That's advice for a world that has largely disappeared. Even good jobs today often have no guarantee of stability. Home prices have reached the stratosphere. Meanwhile, student debt drags you down just as you're trying to take off in life.

To survive and thrive in today's reality, you need a whole new personal finance tool kit.

Personal finance reporter Erica Alini blends the big picture with practical advice to give you a deeper understanding of the economic forces that are shaping your financial struggles and how to overcome them.

Packed with concrete tips,Money Like You Mean Itcovers all the bases: from debt to investing and retirement, plus renting versus buying, and even how to tell whether a side gig is really worth the effort. It's the essential road map you need to make it in the current economy.
The Entire Virtual Bookshelf
A curated list of our most recommended books
Our Courses
INTEGRIS is an authorized educational partner of Knowledge Bureau
ppp105
Behavioural Finance in Risk Management
$895
Knowledge Bureau
This course reviews the measurement and calculation of risk and return from the perspective of clients who are now living longer lives. Largely due to advances in preventing heart disease, more awareness, and healthy lifestyles, Canadians who reach age 65 are more likely than ever to live into their 90s. As a result, retirement income planning is a much longer process in which a focus on continued accumulation and investing is as important as the tax-efficient withdrawal of funds. Capital must be preserved at the same time.
ppp106
Planning with Trusts
$895
Knowledge Bureau
This course provides a detailed primer in the subject area featuring common true to life scenarios because every financial advisor who discusses tax, financial or investment plans with clients should have a basic understanding of the taxation of trusts in order to discuss estate planning options with clients.
ppp201
The Smith Manoeuvre and the Personal Pension Plan
$895
Smith Consulting
This course will give you a solid understanding of The Smith Manoeuvre tax-deductible mortgage strategy and how it can help your clients not only generate personal wealth from their mortgage but can also significantly augment the growth of your client's Personal Pension Plan and corporation.