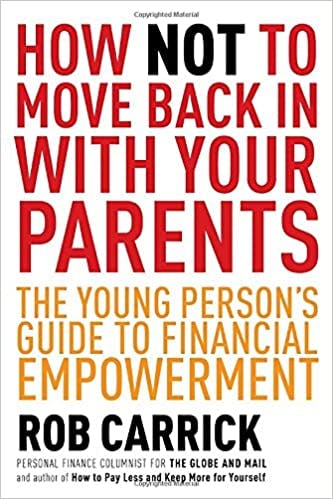 How Not to Move Back in With Your Parents: The Young Person's Complete Guide to Financial Empowerment

Buy now
In this era of the Boomerang Generation, here at last is a full and frank guide to avoiding the need to move back in with your parents.
 
Rob Carrick of The Globe and Mail is one of Canada's most trusted and widely read financial experts. His latest book is the first by anyone to target financial advice specifically at young adults graduating from university or college and moving into the workforce, into the housing market and into family life. Financial beginners, in other words.
 
Carrick offers what can only be described as a wealth of information, on the full life cycle of financial challenges and opportunities young people face, including saving for a post-secondary education and paying off student debts, establishing a credit rating, basic banking and budgeting, car and home buying, marriage and raising children of their own, and insurance.
 
The book is mindful throughout that parents have a big role to play in all this. It addresses young readers throughout but regularly asks them to see things from their parents' perspective. In that way, Rob Carrick is able to offer advice to both generations. He even recognizes that in these difficult times, moving back in with the folks is sometimes a short-term necessity. So there is a section devoted to such important questions as: Should your parents be charging you rent? For that and many thousands of dollars' worth of other reasons, this is a book that every parent needs to buy for each of their kids, plus one for themselves.
The Entire Virtual Bookshelf
A curated list of our most recommended books
Our Courses
INTEGRIS is an authorized educational partner of Knowledge Bureau
ppp105
Behavioural Finance in Risk Management
$895
Knowledge Bureau
This course reviews the measurement and calculation of risk and return from the perspective of clients who are now living longer lives. Largely due to advances in preventing heart disease, more awareness, and healthy lifestyles, Canadians who reach age 65 are more likely than ever to live into their 90s. As a result, retirement income planning is a much longer process in which a focus on continued accumulation and investing is as important as the tax-efficient withdrawal of funds. Capital must be preserved at the same time.
ppp106
Planning with Trusts
$895
Knowledge Bureau
This course provides a detailed primer in the subject area featuring common true to life scenarios because every financial advisor who discusses tax, financial or investment plans with clients should have a basic understanding of the taxation of trusts in order to discuss estate planning options with clients.
ppp201
The Smith Manoeuvre and the Personal Pension Plan
$895
Smith Consulting
This course will give you a solid understanding of The Smith Manoeuvre tax-deductible mortgage strategy and how it can help your clients not only generate personal wealth from their mortgage but can also significantly augment the growth of your client's Personal Pension Plan and corporation.