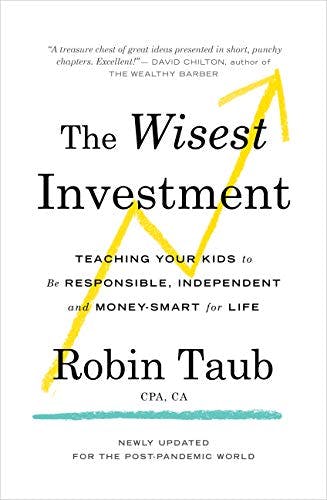 The Wisest Investment

Buy now
"A treasure chest of great ideas presented in short, punchy chapters. Excellent!" - David Chilton, author of The Wealthy Barber
"One of the questions I get asked on a steady basis is whether I know of any resources parents can use to teach their kids about money. My new go-to resource on this topic is Robin Taub's book, The Wisest Investment." - Rob Carrick, Personal Finance Columnist, The Globe and Mail
If you're too busy parenting to read another parenting book, this book is for you!
As parents, you know that teaching your kids about money is critical to success in life, but studies show that many parents feel they lack the time, knowledge and experience to do it well. Add the seismic shift toward a cashless, digital society - accelerated in our post-pandemic world - and it's easy to feel overwhelmed.
With The Wisest Investment: Teaching Your Kids to Be Responsible, Independent and Money-Smart for Life, Canadian author and Chartered Professional Account Robin Taub puts you at ease by laying out a roadmap for teaching your kids about money.
In The Wisest Investment, you'll learn:
The Five Pillars of money: Earn, Save, Spend, Share and Invest
Age-appropriate (from young kids to emerging adults) examples, actions and guidelines for all Five Pillars
How to instill solid values in your children to help guide and prioritize their financial decisions
How to help your children establish healthy money habits for life
How to capitalize on "teachable moments" about money in countless everyday scenarios
How to enhance your own money knowledge, so you can "lead by example"
How to explain and navigate our increasingly cashless society
Written in short, punchy chapters, it's a go-to resource for time-starved parents like you. Filled with practical guidance and examples, suggested activities, worksheets and self-assessment tools, it's a book you will turn to again and again.
Teaching your kids to be money-smart will pay off in numerous ways and just may be one of the wisest investments you make.
The Entire Virtual Bookshelf
A curated list of our most recommended books
Our Courses
INTEGRIS is an authorized educational partner of Knowledge Bureau
ppp105
Behavioural Finance in Risk Management
$895
Knowledge Bureau
This course reviews the measurement and calculation of risk and return from the perspective of clients who are now living longer lives. Largely due to advances in preventing heart disease, more awareness, and healthy lifestyles, Canadians who reach age 65 are more likely than ever to live into their 90s. As a result, retirement income planning is a much longer process in which a focus on continued accumulation and investing is as important as the tax-efficient withdrawal of funds. Capital must be preserved at the same time.
ppp106
Planning with Trusts
$895
Knowledge Bureau
This course provides a detailed primer in the subject area featuring common true to life scenarios because every financial advisor who discusses tax, financial or investment plans with clients should have a basic understanding of the taxation of trusts in order to discuss estate planning options with clients.
ppp201
The Smith Manoeuvre and the Personal Pension Plan
$895
Smith Consulting
This course will give you a solid understanding of The Smith Manoeuvre tax-deductible mortgage strategy and how it can help your clients not only generate personal wealth from their mortgage but can also significantly augment the growth of your client's Personal Pension Plan and corporation.