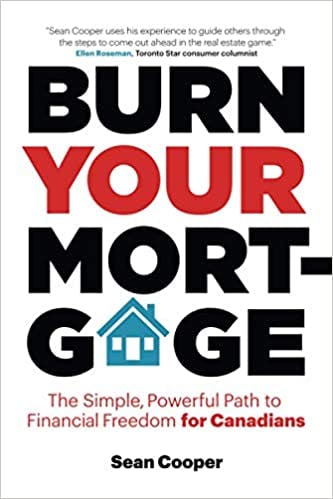 Burn Your Mortgage: The Simple, Powerful Path to Financial Freedom for Canadians

Buy now
Sean Cooper made news headlines around the world when he paid off his mortgage at 30 on a house he bought just three years prior. In Burn Your Mortgage, Cooper's extreme achievement is made accessible as the acclaimed personal finance expert shares the secret to his success: simple yet effective lifestyle changes that anyone--from new buyers to experienced homeowners--can make to pay down their mortgage sooner.

Burn Your Mortgage combines inspiring anecdotes with realistic and jargon-free financial tips and resources for achieving financial freedom no matter your financial situation. This easy-to-follow guide will help you pay off your mortgage at your own pace and show you how to live well while doing it. Tools include:Simple ways to pay down your mortgage sooner;Your very own mortgage-free action plan;Sample budgets and savings plans;Tools for tracking income and expenses;Home-buying blueprints;Worksheets for financial empowerment;Up-to-date information on bank accounts, mortgage contracts, investing, and loans - and how to choose the best options for you;Tips for overcoming bad money habits.

Inspiring, insightful and fun, Burn Your Mortgage will transform the way you think about money and debt on your path to independent home ownership.
The Entire Virtual Bookshelf
A curated list of our most recommended books
Our Courses
INTEGRIS is an authorized educational partner of Knowledge Bureau
ppp105
Behavioural Finance in Risk Management
$895
Knowledge Bureau
This course reviews the measurement and calculation of risk and return from the perspective of clients who are now living longer lives. Largely due to advances in preventing heart disease, more awareness, and healthy lifestyles, Canadians who reach age 65 are more likely than ever to live into their 90s. As a result, retirement income planning is a much longer process in which a focus on continued accumulation and investing is as important as the tax-efficient withdrawal of funds. Capital must be preserved at the same time.
ppp106
Planning with Trusts
$895
Knowledge Bureau
This course provides a detailed primer in the subject area featuring common true to life scenarios because every financial advisor who discusses tax, financial or investment plans with clients should have a basic understanding of the taxation of trusts in order to discuss estate planning options with clients.
ppp201
The Smith Manoeuvre and the Personal Pension Plan
$895
Smith Consulting
This course will give you a solid understanding of The Smith Manoeuvre tax-deductible mortgage strategy and how it can help your clients not only generate personal wealth from their mortgage but can also significantly augment the growth of your client's Personal Pension Plan and corporation.